Student Forums and Debates
Part of our mission centers on encouraging and cultivating the voice of our youngest citizens. This is why The Rendell Center provides opportunities for students to participate in our democracy before they reach voting age.
In addition to our annual Citizenship Challenge, experiential learning events have also included our Youth Gubernatorial Forum and Mayoral Candidate Conversation. Opportunities like these not only allow students to attend in person but they also give thousands more young citizens access to the events through video streaming.
Hearing the Students' Voices
Active participation means more than merely watching candidates debate topics. The Rendell Center provides a forum for students to pose their questions to candidates. Our town-hall-like events reveal that students' concerns mirror those of voting adults in many ways. Their ability to question would be leaders establishes the practice of being active, engaged citizens, which will serve them through adulthood.

Elementary School Students Pose Their Questions to Pennsylvania's Candidates for Governor
Governors are elected by the people of a state to serve as the head of its government with many responsibilities
A basic goal of a governor is to make his or her state a great place for its citizens to live. Elementary school students are a unique population of PA residents with some very interesting views on how to make their state great as well as how to make their school experiences great.
On October 10, 2018, The Rendell Center combined these interests through a Youth Gubernatorial Forum, prefacing Pennsylvania's upcoming election for governor. Elementary students were invited share their ideas live with candidates PA Governor Tom Wolf and challenger Scott Wagner, and in a pre-recorded format with candidate Paul Glover.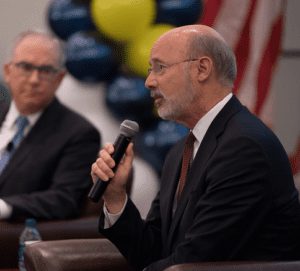 Student Questions
Here are the selected questions presented to the gubernatorial candidates:
Question 1 – From the Robert B. Pollack Elementary School, Philadelphia
What will you do to make sure that funding is available to build homeless shelters and provide other resources to prevent homelessness throughout our state?
Question 2 – From the Anne Frank Elementary School, Philadelphia
You have many responsibilities as a potential governor. You want us to invest in YOU as a governor, but our question is, what are YOU going to invest in us?  Specifically, we are concerned about problems with bullying and safety inside and outside of our schools?
Question 3 – From Edwin M. Stanton Elementary School, Philadelphia
At our school, we have drills that prepare us for a threat in the place where we learn. We have seen school shootings happen in so many schools across the country and worry that our school could be next.  What ideas do you have that could help us to feel less afraid and safer in our schools?
Question 4 – From Cynwyd Elementary School, Lower Merion School District
How can you ensure a fair distribution of funding for schools, especially make sure that all students have a safe comfortable enriching learning environment?  Some schools do not have enough supplies, access to technology, air conditioning and buildings that meet safety codes. We want equal learning experiences and excellence in education in PA.
Question 5 – From Fox Chapel School District, Pittsburgh
Students and Teachers are concerned that standardized tests are taking away from genuinely learning valuable material. How could you change this?
A unique opportunity for elementary school students to engage prior to the Philadelphia Mayoral Election

In 2015, the Rendell Center for Civics and Civic Engagement provided an opportunity for all Philadelphia School District 4th and 5th graders to engage in a conversation with Mayoral Candidates Jim Kenny and Melissa Murray Bailey. Students' voices were heard through the submission of 300-word essays on how to resolve what they think is one of the most important issues facing Philadelphia.
Five essays were selected for presentation to the candidates in a live session held on October 20, 2015. The session was broadcast to all schools in the District.
News coverage of the forum included: